Oresund Cup (Qualification #1) Oct 5th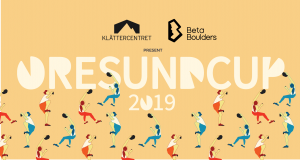 The Oresund Cup will see climbers battling against each other across two gyms. They will compete for themselves and for their city's team. Team Copenhagen or Team Malmö – who is going to win? No matter your level you can support your team with each problem your climb.
You can buy tickets for one of the two events or a combined ticket.
COMP
There will be 25 boulder problems at each site, so a total of 50 problems across the two qualification rounds. Every problem will be worth a total of 1000 points that will be divided between all climbers able to top it (individual).
There will also be a bonus added to their individual score for climbers competing in their "away" Team's gym. Team Copenhagen climbers in Malmö will get a bonus and vice versa Team Malmö Climbers in Copenhagen.
The finals, between the 6 highest ranking males and females, will be hosted at Beta Boulders on October 19th.
The qualification rounds will follow a format similar to Plastic Fantastic, where each climber has a scorecard and you are responsible for ticking your own problems. The qualificaion format will be the same at both venues.
WHEN
(Qualification #1)
October 5th, 2019 | From 12:00 to 22:00
WHERE
Klättercentret
Kopparbergsgatan 8, Malmö
TICKETS
Can be bought on site at Klättercentret Malmö for either:
– Qualification #1 Malmö OR
– combined ticket: Qualification #1 at KC and Qulification #1 KC and Qualification #2 + Final at Beta Boulders, Copenhagen
Once you buy a ticket, fill out the Registration Form
More info: https://www.oresund-cup.com