QUESTIONS and ANSWERS
Q: How long does it take to get my shoes repaired?
A: A maximum of 6-8 weeks. We send a shipment of shoes once every month or whenever we have 30 pairs of shoes ready to re-sole.
From when we send off the shoes, it is usually around 2-3 weeks before they are returned to KC.
Q: How often do you send off shoes to be repaired?
A: Once every month or whenever we have 30 pairs of shoes ready to send. We can send a maximum of 30 pairs at any one time, so we wait until we have as close to 30 pairs as possible before we send them off.
Q: What brand of shoe can be repaired?
A: The company we use is an official La Sportiva and Scarpa repair service, but they also repair any brand of climbing shoe with exactly the same high quality service.
Q: Why is it more expensive than sending my shoes to another place for repair?
A: We want to provide you with the best possible repair service available, so we choose to use an official Scarpa and LaSportiva resoling company using official parts from the manufacturer.
Your shoes come back like new shoes!
Below are examples of what can generally be repaired and what cannot be repaired.
Shoes that have holes in the rand around the toe area can be repaired if they look similar to the examples above. The upper (fabric part of the shoe) does look like it has a small hole, but in these examples, it is where the stitching on the inside of the shoe meets. In this case the rand and the sole rubber will definitely be replaced. It is generally repairable.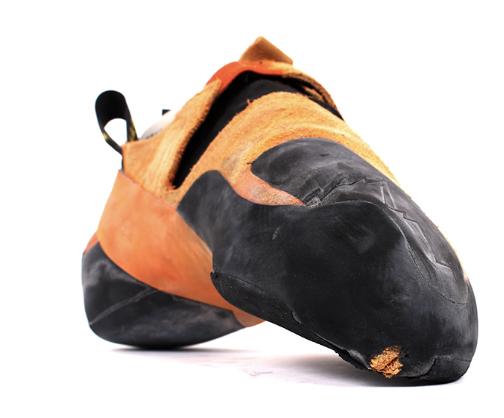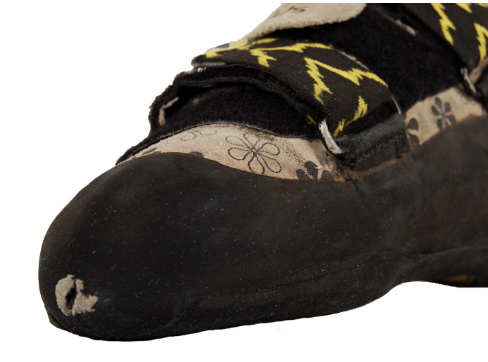 The shoe below CANNOT be repaired. There is material actually missing from the upper that will not join up when the rand is replaced.