Welcome to Klättercentret in Malmö!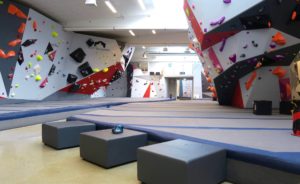 Klättercentret in Malmö is the biggest bouldering hall in Sweden with 1000 square meters of climbing. If you would like to climb here you can drop by any time, pay an entrance fee, and then climb for as long as you like. You can also work out in our gym, use our sauna, and buy something to eat in our cafe. We have climbing shoes for rent if you don't have a pair of your own. We recommend that you read our safety rules and watch our bouldering safety instruction film before visiting us for the first time.
If you would like to climb on our little rope wall, you will need either a green card (for top rope) or a red card (for lead). These cards are certificates that prove that you have the necessary knowledge and skills for belaying, and are required at any climbing hall in Sweden associated with the Swedish Climbing Association. If you don't have a card but you already know how to belay, you can take a short test to get one. The test normally takes about 30 minutes. If you haven't belayed anyone before, we also offer top rope and lead courses where you can learn to belay.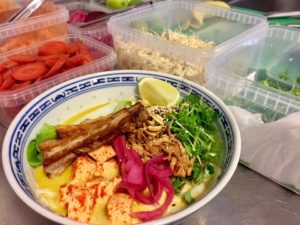 If you would like to visit us regularly, we offer many types of discount deals: 10-time cards, 25-time cards, 3 months, 6 months, 12 months unlimited climbing, and a monthly subscription membership. To start a subscription you will need a Swedish personal number and a Swedish bank account.
Contact us for more information!
Learn to climb with our instructors
If you haven't climbed before, you might be interested in participating in one of our many courses. We offer courses both for bouldering and indoor rope climbing, as well as coaching sessions that will help you improve your climbing technique and strength. All our courses can be held in English on request. Contact us at kursskane@klattercentret.se if you are interested in booking a course and we will do our best to help you find one that suits your needs.
We also organize birthday parties with climbing for kids!
Climbing shop
If you need climbing shoes or any other type of climbing equipment, you're welcome to visit our shop. We sell apparel, crash pads, chalk, harnesses, ropes, belay devices, carabiners, and many other things.
Conferences
We organize conferences, kick-offs, and other types of corporate events in our conference space on the second floor. You can book us for just the conference space, or in combination with climbing or yoga, and with or without meals included. Contact us for more information at konferensskane@klattercentret.se! We accept groups of up to 50 people.
Opening hours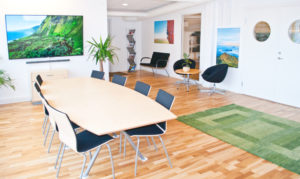 We are open on weekdays from 10 am to 10 pm, and on weekends and national holidays from 10 am to 7 pm.
You can contact us by phone:  +46(0)40 – 655 85 05, or by email: skane@klattercentret.se.
Welcome!